SUBSTITUSI TEPUNG TERIGU DENGAN PANGAN LOKAL UBI UNGU (Ipomoea batatas L. Poir) DAN TEPUNG KACANG TANAH (Arachis hypogaea) PADA PEMBUATAN COOKIES : KAJIAN KADAR PROTEIN DAN MUTU ORGANOLEPTIK
Substitution of Flour with Local Food Purple Cassava Flour (Ipomoea batatas L. Poir) and Peanut Flour (Arachis hypogaea) in coookies : Study Protein and Organeptic Quality
Yahmi Ira Setyaningrum

STIKes WCH
Keywords:
Keywords: Cookies, Purple Cassava Flour, Peanut Flour, Protein, Organoleptic Quality.
Abstract
Cookies are one type of biscuit made from soft and dense textured dough. So far, cookies are made from wheat flour, so it is necessary to use local raw materials to explore food potential. In this study using purple sweet potato flour was used to substitute flour. The objective of this study was to analyze the effect of substitution of purple sweet potato flour and peanut flour on protein content and organoleptic quality in cookies. The study design was a randomized block design with 4 treatments, namely the proportion of purple yam flour: peanut flour namely F1 (55%: 20%), F2 (45%: 30%), F3 (35%: 40%). Protein content analysis used was the Kjeldahl method. Organoleptic quality uses a Hedonic Test. Statistical analysis uses Two Way Anova and DMRT with a confidence level of 95%. There is a significant effect of purple sweet potato flour and peanut flour (p = 0,000) on protein content in cookies. The highest protein content at F3 is 9.1%. The higher the addition of peanut flour, the higher the protein content in cookies. Statistical analysis used was Friedman with a confidence level of 95%. There was a significant effect of purple sweet potato flour and peanut flour (p = 0,000) on the level of cookies preferences (color, taste, aroma and texture). The most preferred formula from Hedonic Test was F3 in terms of color, taste, aroma, and texture of cookies.
References
Andarwulan. 2011. Analisis Pangan. Jakarta: Dian Rakyat.
Balitbangtan (Balai Penelitian dan Pengembangan Pertanian). 2016. "Kandungan Ubi jalar berdasarkan varietas", (Online), (https://www.litbang.pertanian.go.id/info-teknologi/2648/, diakses 28 Maret 2019).
Balitkabi. 2012. "Deskripsi Varietas Unggul Kacang-kacangan dan Umbi-umbian", (Online), (http://balitkabi.litbang.pertanian.go.id/wp-content/uploads/2015/06/20._OK_Rahmi_376-393-1.pdf, diakses 2 April 2019).
BPS (Badan Pusat Statistik). 2015. Data Statistik Pertanian Tanaman Pangan Data Statistik Konsumsi Makanan Olahan Tepung Terigu. Jakarta.
Dwiyani, H. 2013. Formulasi Biskuit Substitusi Tepung Ubi kayu dan Ubi Jalar dengan Penambahan Isolat Protein Kedelai. Skripsi. Bogor. Fakultas Ekologi Manusia. Institut Pertanian Bogor. Diakses 28 Maret 2019. https://repository.ipb.ac.id/jspui/bitstream/123456789/63418/1/I13hdw.pdf.
Faridah, A. 2008. Patiseri Jilid I - 3. Jakarta: Direktorat Pembinaan Sekolah Menengah Kejuruan.
Hastuti, A. 2012. Aneka Cookies Paling Favorit, Populer, Istimewa. Jakarta: Dunia Kreasi.
Isnaini, T. 2018. Kadar Protein, Tekstur, dan Sifat Organoleptik Cookies yang Disubstitusi Tepung Ganyong (Canna Edulis) dan Tepung Kacang Kedelai (Glycine Max). Jurnal Pangan dan Gizi. 8 (6). Diakses 18 Maret 2019. https://jurnal.unimus.ac.id/index.php/JPDG/article/view/3361.
Nur, R. 2018. Pemanfaatan Tepung Kacang Tanah Sebagai Produk Variasi Janhagel Peanut With Chocolate Cookies (Hagelnut Cookies). Skripsi. Yogyakarta. Program Studi Teknik Boga. Universitas Negeri Yogyakarta. Diakses 21 april 2019. https://eprints.uny.ac.id/61031/.
Pendidikan dan Pembinaan Manajemen, 2014. Analisis Data dan Penentuan Perlakuan Terbaik. Jakarta Pusat: Bina Manajemen
Purwadaria, S. 2014. 21 Resep Kue Kering Layak Jual. Jakarta: PT Media Boga Utama.
Subandoro, R. H. 2013. Pemanfaatan Tepung Millet dan Tepung Ubi Jalar kuning Sebagai Substitusi Tepung Terigu dalam Pembuatan Cookies Terhadap Karakteristik Organoleptik dan Fisikokimia. Jurnal Tekno sains Pangan. 2 (4). Diakses 23 April 2019. https://jurnal.uns.ac.id/teknosains-pangan/article/view/4474.
Sutomo, B. 2012. Rahasia Sukses Membuat Cake, Roti, Kue Kering. Jakarta: PT Gremedia Pustaka Utama.
Syarfaini. 2017. Analisis Kandungan Zat Gizi Biskuit Ubi Jalar Ungu (Ipomoea batatas L.Poiret) Sebagai Alternatif Perbaikan Gizi di Masyarakat. Jurnal Public Health Science. 9 (2). Diakses 25 April 2019. http://journal.uin-alauddin.ac.id/index.php/Al-Sihah/article/view/3763.
Widyastuti. 2015. Pengaruh Substitusi Tepung Labu Kuning (Cucurbhita Moschata) Terhadap Kadar β-karoten dan Daya Terima Pada Biskuit Labu Kuning. Skripsi. Surakarta. Fakultas Ilmu Kesehatan. Universitas Muhammadiyah Surakarta. Diakses 30 April 2019. http://eprints.ums.ac.id/47077/16/02.%20NASKAH%20PUBLIKASI.pdf.
Wulandari, D. 2017. Pengaruh Tepung Ubi Ungu dan Tepung Kacang tanah Merah Pratamax Dalam Pembuatan Food Bar Terhadap Daya Patah dan Daya Terima. Skripsi. Surakarta. Program Studi Ilmu Gizi. Universitas Muhammadiyah Surakarta. Diakses 4 April 2019. https://e-journal.unair.ac.id/AMNT/article/download/6227/4283.
Yulifianti. 2013. "Teknologi pengolahan dan produk olahan kacang tanah.", (online) (file:///G:/PROYEK%20AKIR%20TEPUNG%20UBI%20UNGU/pengolahan%20kacang%20tanah%20!!.pdf, diakses 3 April 2019).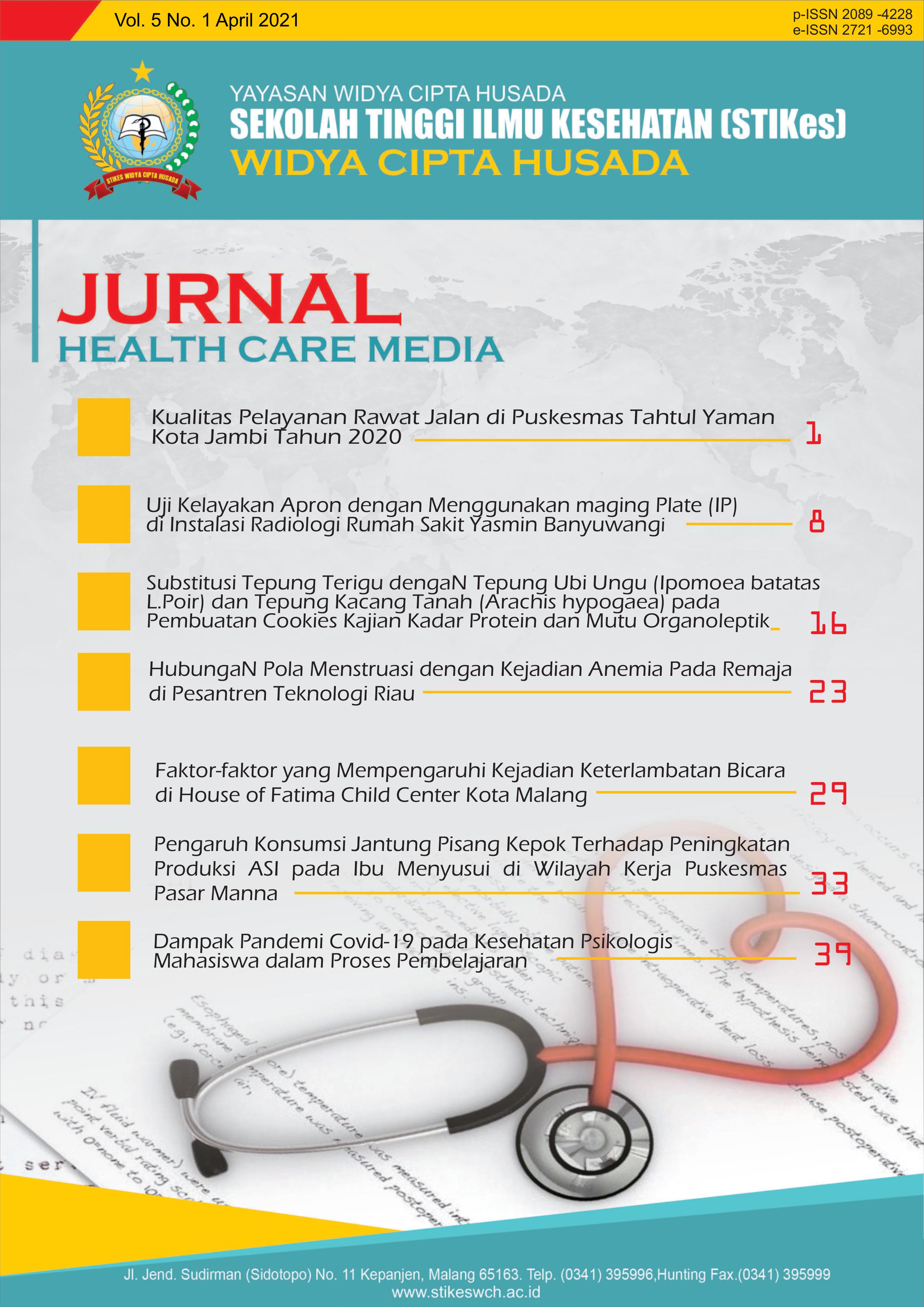 How to Cite
Setyaningrum, Y. (2021). SUBSTITUSI TEPUNG TERIGU DENGAN PANGAN LOKAL UBI UNGU (Ipomoea batatas L. Poir) DAN TEPUNG KACANG TANAH (Arachis hypogaea) PADA PEMBUATAN COOKIES : KAJIAN KADAR PROTEIN DAN MUTU ORGANOLEPTIK. Health Care Media, 5(1), 16 - 22. Retrieved from https://stikeswch-malang.e-journal.id/Health/article/view/155