THE IMPLEMENTATION OF HOME CARE LKK-DMT SERVICE UNIT IN THE RSU PKU MUHAMMADIYAH BANTUL
IMPLEMENTASI PELAYANAN HOME CARE UNIT LKK-DMT DI RSU PKU MUHAMMADIYAH BANTUL
Rochana Ruliyandari

Universitas Ahmad Dahlan
Keywords:
Home care, Non-Communicable Diseases, Advanced Care
Abstract
Abstrak
Indonesia merupakan negara yang masih memiliki masalah kesehatan, terutama pernyakit tidak menular atau penyakit degeneratif.  Penyakit tidak menular umumnya memiliki perawatan dalam jangka waktu yang panjang dan berlanjut, sehingga memerlukan perawatan lanjutan pasca mendapatkan perawatan di pelayanan kesehatan atau rumah sakit.untuk mendukung upaya perawatan lanjutan pasca perawatan di rumah sakit, RS PKU Muhammadiyah Bantul membentuk unit khusus untuk menangani pelayanan home care bagi pasien yang membutuhkan perawatan lanjutan. Penelitian ini dilakukan dengan jenis penelitian kualitatif. Dengan pendekatan studi kasus. Hasil penelitian menunjukkan bahwa program kegiatan pelayanan home care yang terdapat di wilayah RSU PKU Muhammadiyah Bantul belum terlaksana secara maksimal.
Keywords: Home care, Penyakit Tidak Menular, Perawatan Lanjutan
Abstract
Indonesia is a country that still has health problems, especially non-communicable diseases or degenerative diseases. Non-communicable diseases generally have long term care and continue, so that they require continued care after getting treatment in health services or hospitals. To support continued care efforts after treatment at the hospital, PKU Muhammadiyah Hospital Bantul formed a special unit to handleservices homecare for patients who need further care. This research was conducted with the type of qualitative research. With a case study approach. The results showed that the program ofservice activities home care in the PKU Muhammadiyah Hospital in Bantul had not been implemented optimally.
Keywords: Home care, Non-Communicable Diseases, Advanced Care   
References
1. Lestari Y, Subardiah I. TELEHEALTH: ELEKTRONIK HOUSECALL SYSTEM, SOLUSI MENGURANGI BIAYA PERAWATAN KESEHATAN. J keperawatan. 2017;XIII(2):244–8.
2. Prasetyo Y, Djauhari T, Wardojo IS. Homecare Services' Potential at the UMM Hospital: Analysis on the Disease Cases, Public Social and Economy. J Keperawatan. 2016;7(1):70–8.
3. Depkes RI. Pedoman Perawatan Kesehatan di Rumah. Jakarta; 2002.
4. Kusyati E, Putri AA. Home Care in Ulcus Diabeticum Care in Semarang City. Indones Nurs J Educ Clin [Internet]. 2016;1(1):34–41. Available from: https://injec.aipni-ainec.org/index.php/INJEC/article/view/109/88
5. Krisnawati WL, K. Home care holistic. J Ners. 2012;7(2):108.
6. Nerisafitra P, Roip. Perancangan Model Data Sistem Pelayanan Kesehatan Mandiri (Homecare) Di Rumah Sakit Islam Jemursari Surabaya. Technol Sci Eng J. 2017;1(3):230–6.
7. Ismiyati, Akhmadi, Haryani. Kajian Kebutuhan Pelayanan Home Care Pada Pasien Stroke Lanjut Usia. J Ilmu Keperawatan UGM. 2009;4(2):116–23.
8. Meilianingsih L, Setiawan R. Pelayanan Home Care Terhadap Tingkat Kemandirian Keluarga Dalam Merawat Anggota Keluarga Dengan Diabetes Melitus Tipe 2. J Persat Perawat Nas Indones. 2016;1(1):9.
9. Suardana IK. Home care Sebagai Alternatif Pemberian Pelayanan Keperawatan. Maj Keperawatan Bina Sehat, Jakarta. 2001;
10. Suharyati. Home Care. Makal Semin Keperawatan Dalam Rangka Hut Ppni Kota Surabaya Ke 29, Surabaya. 2003;
11. Lola Illona Elfani Kausar, Sukihananto. Pemanfaatan Teknologi Informasi Berbasis Internet Terhadap Perkembangan Home Care Di Indonesia. Din Kesehat J Kebidanan dan Keperawatan. 2019;10(1):212–23.
12. Fahrepi R, Rate S, Hadi AJ. HUBUNGAN KUALITAS PELAYANAN HOME CARE DENGAN TINGKAT PUSKESMAS BATUA KOTA MAKASSAR The Relation Of Home Care Service Quality And Family ' s Patient Statisfaction In Batua Public Health Center Jobs Area , Makassar City. Promot J Kesehat Masy [Internet]. 2019;9(0451):122–8. Available from: https://jurnal.unismuhpalu.ac.id/index.php/PJKM/article/viewFile/589/482
13. Kholifah SN. HOME CARE. J Keperawatan. 2012;V(1):44–8.
14. Rahmi U, Ramadhanti D. Gambaran Pengetahuan Perawat Tentang Manajemen Pelayanan Hospital Homecare Di Rsud Al-Ihsan Jawa Barat. J Pendidik Keperawatan Indones. 2017;3(1):78–82.
15. Kasim N, Palu B, Ahri RA. Evaluasi program layanan lome care di wilayah kerja Puskesmas Batua kota Makassar. Wind Heal J Kesehat [Internet]. 2018;1(3):254–9. Available from: http://jurnal.fkmumi.ac.id/index.php/woh/article/view/woh1313
16. M AAM, Arman, Ahri RA. Faktor Yang Mempengaruhi Minat Masyarakat Dalam Pemanfaatan Home Care Di Puskesmas Layang. Wind Heal J Kesehat. 2018;1(3):297–303.
17. Parellangi, Haroen H, Meilianingsih L. PENINGKATAN KEMANDIRIAN KELUARGA SETELAH INTERVENSI PELAYANAN HOME CARE. Husada Mahakam J Kesehat. 2017;3(3):114–22.
18. Aziz IK, Palu B, Ahri RA. Pengaruh Kualitas Layanan Home Care Terhadap Kepuasan Dan Kepercayaan Pasien Di Kecamatan Panakkukang Kota Makassar. Wind Heal J Kesehat. 2018;1(3):304–10.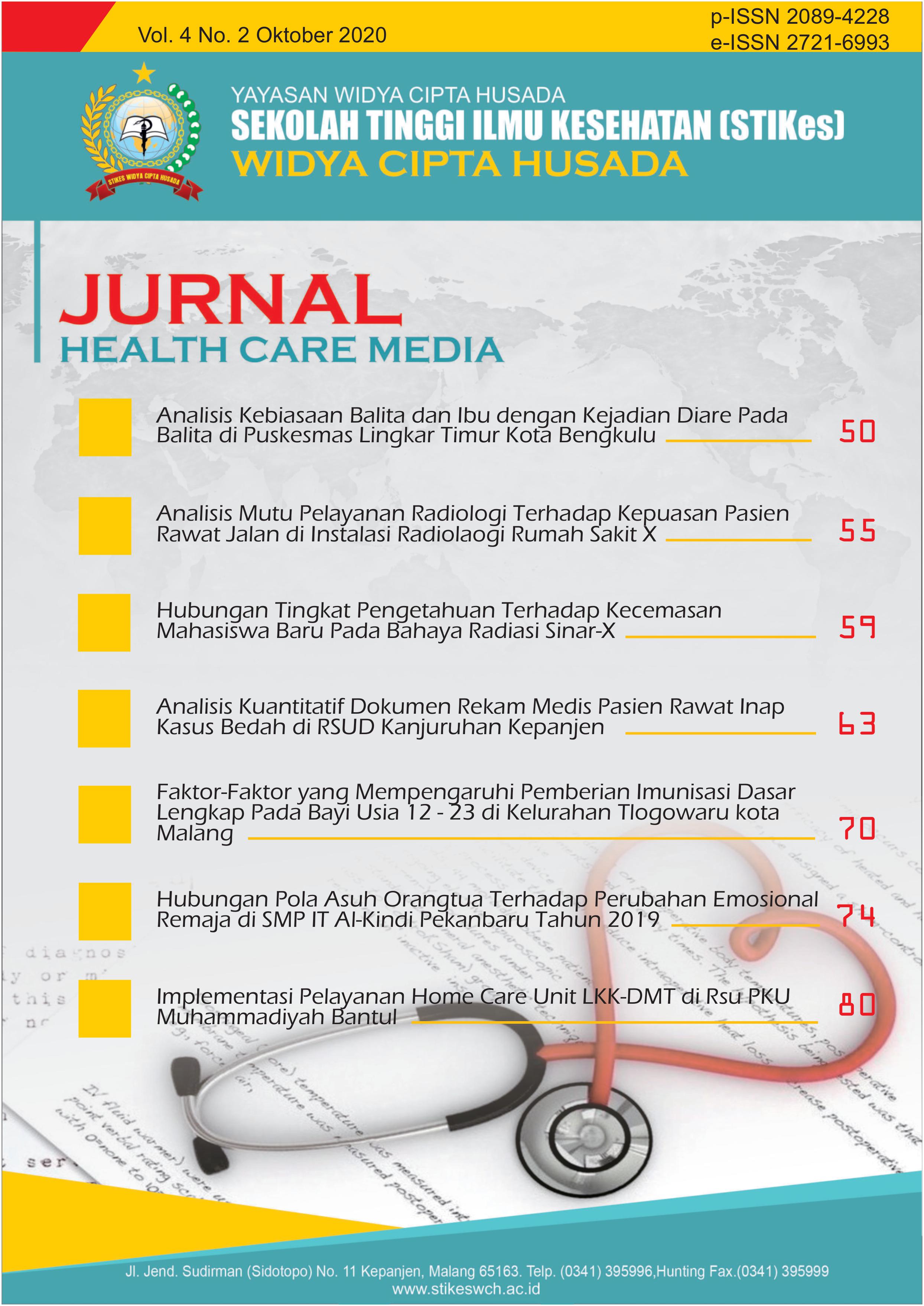 How to Cite
Ruliyandari, R. (2020). THE IMPLEMENTATION OF HOME CARE LKK-DMT SERVICE UNIT IN THE RSU PKU MUHAMMADIYAH BANTUL. Health Care Media, 4(2), 80 - 84. Retrieved from https://stikeswch-malang.e-journal.id/Health/article/view/133