HUBUNGAN POLA ASUH ORANGTUA TERHADAP PERUBAHAN EMOSIONAL REMAJA DI SMP IT AL-KINDI PEKANBARU TAHUN 2019
Andri Ani

Akademi Kebidanan Internasional Pekanbaru
Keywords:
Emotional Change, Parenting, Parents, Teenagers
Abstract
Teenagers is a transitional period in the span of human life, connecting right-childhood and adulthood which includes biological, cognitive, and social emotional changes. Old people are the main role takers in taking care of their children. Parenting is a pattern of behavior that parents use to connect with children. This study aims to" Relationship Between Parenting Parents Towards The Emotional Changes Of Adolescents In Junior High School It Of Al-Kindi Pekanbaru In 2019". This research is quantitative with analytical design using cross sectional. Conducted on 12 February -13 February 2019 on the same it al-kindi pekanbaru. The total population is 87 people using total population, this research instrument uses a questionnaire, univariate data processing is presented in the form of a frequency distribution table followed by bivariate analysis using SPSS vs. 17. Software then presented descriptively and analytically through statistical tests. The results of the study revealed that the majority of parents used democratic parenting as many as 68 respondents (98.9%) had changes in teenage emotions that were masking as many as 54 adolescents (62.1%). From the results of the chi.square test, it was found that there was no significant relationship between parenting toward the emotional changes of adolescents in junior high school  in  2019.  Through  this  study  parents  were  expected  to  provide  better  parenting  so  that  the teenagers were more open with parents and teenagers experiencing good emotional development.
References
Adam. 2012. Kajian Bab II Kematangan Emosi. http://Etheses.Uin-Malang.Ac.Id/2609/6/06410028_Bab_2.Pdf. (diakses Pada Tanggal 4 November Pukul 19.40 WIB)
Agustiawati.2014. Kajian Bab II Pola Asuh Orangtua.http://Repository.Upi.Edu/12418/5/S_Pea_1005816_Chapter2.Pdf ( 2 November 2018 )
Ali, M &Asrori, M. 2012. Psikologi Remaja Perkembangan Peserta Didik. Jakarta: Bumi Aksara.
Chaplin.2014. Kamus Lengkap Psikologi. Jakarta: Pt. Raja Grafindo Persada.
Dian,Ika.2013. Hubungan Antara Pola Asuh Demokratis Dengan Kematangan Emosi Pada Siswa Sma Negeri 9 Samarinda.http://Ejurnal.Untagsmd.Ac.Id/Index.Php/Mtv/Article/Download/216/324 (3 maret 2019 )
Fitriyah. 2015. Kajian Bab II Pola Asuh.http://Etheses.Uin-Malang.Ac.Id/1528/6/11410114_Bab_2.Pdf (2 November 2018)
Ginoni. 2012. kajian Bab II Masa Remaja. http://Etheses.Uin-Malang.Ac.Id/2179/6/07410048_Bab_2.Pdf ( 2 November 2018 )

Hidayat. 2010. Metode Penelitian Kesehatan Paradigma Kuantitatif.Jakarta: Heath Books.
Imron. 2010. Metode Penelitian Bidang Kesehatan. Jakarta: Sagung Seto
Hurlock, E.B.2003. Psikologi perkembangan.5th Edition.Erlangga: Jakarta.
Herlan & Lis. 2017. Kematangan Emosi Konsep Diri Dan Kenakalan Remaja.
https://Media.Neliti.Com/Media/Publications/127014-Id-Kematangan-Emosi-Konsep-Diri-Dan-Kenakal.Pdf (4 November 2018)
Juntika & Mubiar. 2011. Dinamika Perkembangan Anak Dan Remaja. Bandung :Pt.Refika Aditama.
Kemenkes Ri.2013. Riset Kesehatan Dasar (Riskesdas) 2013. http://Depkes.Go.Id/Download/General. (23 November 2018)
Kuncoro. 2018. Kajian Pustaka, Kerangka Pemikiran, Dan Proposisi. http://repository.unpas.ac.id/37807/5/BAB%20II.pdf (21 Maret 2019)
Notoadmojdo. 2012. Metodologi Penelitian Kesehatan. Jakarta: Rineka Cipta.
Ruth, Jack.2015. Pola Asuh Orangtua Dengan Perkembangan Emosional Remaja Di SMA Negeri 14 Medan. https://Www.Academia.Edu/33971825/Pola_Asuh_Orang_Tua_Dengan_Perkembangan_Emosional_Remaja_Di_Sma_Negeri_14_Medan.
(Diakses Pada Tanggal 18 Februari 2018 Pukul 19.58 WIB)
Sadani.2017. Hubungan Tingkat Pendidikan Dan Pola Asuh Orang Tua Dengan Hasil Belajar Siswa.https://Journal.Unnes.Ac.Id/Sju/Index.Php/Jlj/Article/View/.../7745 (27 februari 2019)
Santrock.2012. Adolescence Perkembangan Remaja. Jakarta: Erlangga
Siswati, Deniar & Dinie. 2017. Intensi Penggunaan Gadget Dan Kecerdasan Emosional Pada Remaja Awal.http://Jurnal.Unissula.Ac.Id/Index.Php/Ippi/Article/Download/2175/1638 (4 Maret 2018).
Srie, Venie, & Dinda. 2018. Hubungan Pola Asuh Orangtua Terhadap Masalah Mental Emosional Remaja. https://jom.unri.ac.id/index.php/JOMPSIK/article/.../21106/20426
(18 desember 2018)
Sulistyaningsih.2012. Metode Penelitian Kebidanan Kuantitatif-Kualitatif. Yogyakarta: Graha Ilmu.
Susanto.2015. Bimbingan Dan Konseling Di Taman Kanak-Kanak. Jakarta: Kencana.
Walgito. 2014. Pengantar Psikologi Umum. Yogyakarta: Andi.
Wulandari. 2016. Perbedaan Tingkat Pengendalian Emosi Antara Remaja Yang Tinggal Di Desa Dan Yang Tinggal Di ota.https://Repository.Usd.Ac.Id/6615/2/119114010_Full.Pdf
(25 Desember 2018)
Yuliana & Fellasari. 2016. Hubungan Antara Pola Asuh Orangtua Dengan Kematangan Emosi Remaja. http://Ejournal.Uin-Suska.Ac.Id/Index.Php/Psikologi/Article/View/3234/2034
(2 November 2018)
Yusuf. 2012. Psikologi Perkembangan Anak Dan Remaja. Bandung: PT.Remaja Rosdakarya.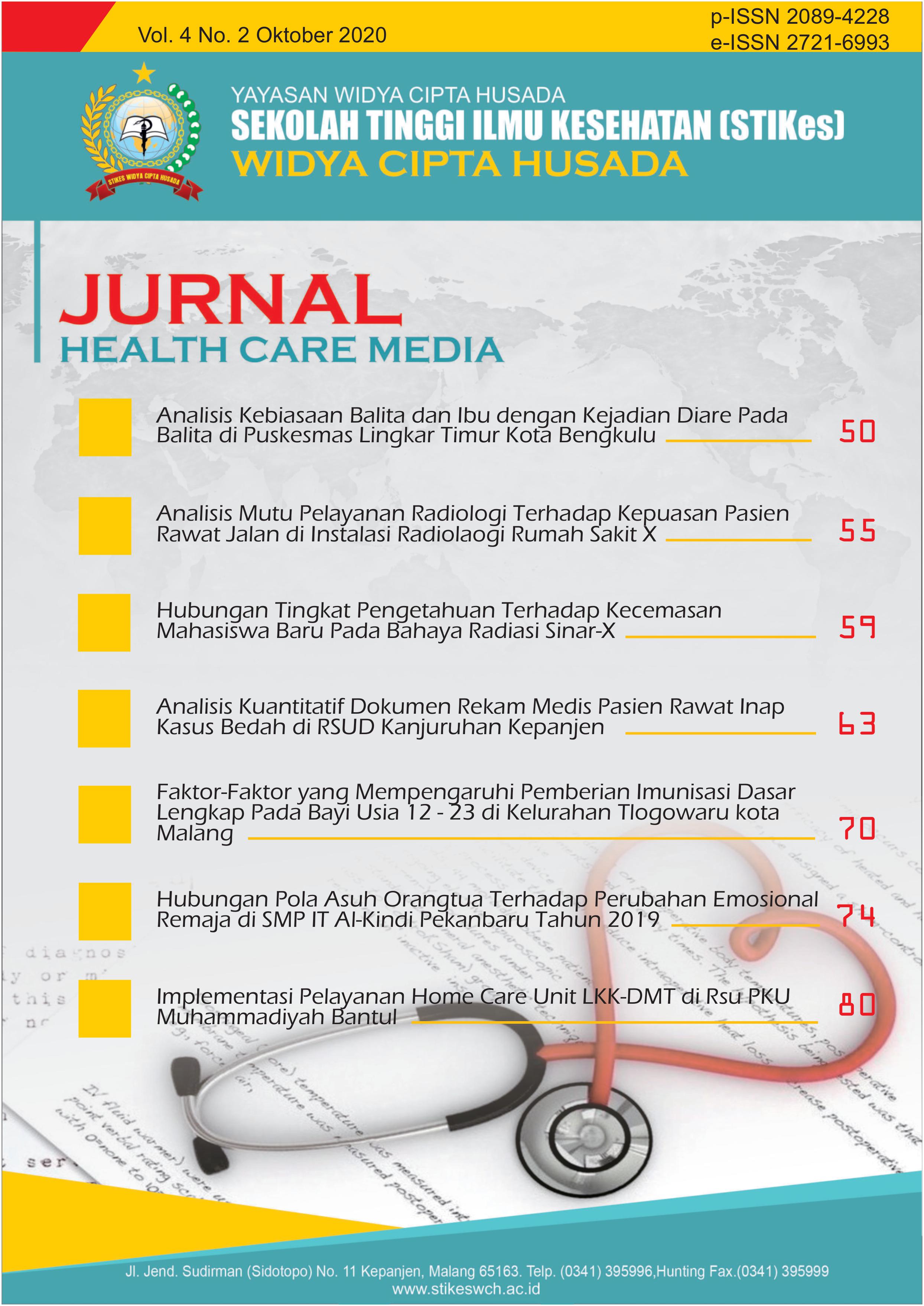 How to Cite
Ani, A. (2020). HUBUNGAN POLA ASUH ORANGTUA TERHADAP PERUBAHAN EMOSIONAL REMAJA DI SMP IT AL-KINDI PEKANBARU TAHUN 2019. Health Care Media, 4(2), 74 - 79. Retrieved from https://stikeswch-malang.e-journal.id/Health/article/view/131